2019 SCHSL Spring State Championships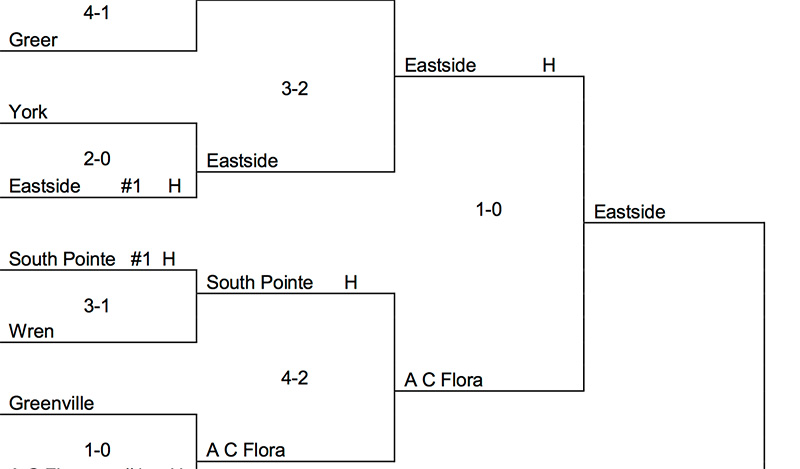 The 2019 spring sports season heads to its final weekends and Eastside High is well represented in the state championship brackets. On Monday, the Eagles girls soccer team clinched a birth in the AAAA state title match with a 1-0 victory over AC Flora. Eastside makes a return trip to state where they fell short 2-1 to Hilton Head Island last season. The Lady Eagles will look to finish the deal as they face off against South Aiken.
The following day the Eastside boys soccer team squared off with Wren for a shot at the title game. Pushed to overtime, the Eagles managed two goals in the extra period to also secure a return trip to the state title match where they will face Dreher High. Last season the Eagles fell 1-0 to Chapin. Both Eastside teams will be looking for redemption in 2019. Class 4A will play Friday night at Irmo High.
On Wednesday the Eastside baseball team made history by qualifying for their first state championship series with a 5-3 win over BHP. Freshman Brody Fowler threw a complete game to secure the victory in a winner take all Upper State Championship. The Eagles will host Game 1 vs Midland Valley on Saturday. The baseball title series is best of three. Game 2 is slated for Tuesday at Midland Valley. Game 3 is May 18 at a neutral site yet to be determined.
JL Mann will look to repeat as Class 5A champions after they defeated Clover 2-1 to return to the title match. They will face Wando on Saturday at 4:30 pm. The Patriot boys followed with a 1-0 victory over Clover to propel themselves in the title match. They too will face off against Wando at 7:00 pm on Saturday. State title matches will be held at Irmo High.
Last night, Hillcrest and Blue Ridge softball and JL Mann baseball saw their seasons end in Upper State. Blue Ridge fell 2-0 on the road at Palmetto. Same result for the Rams, who lost 2-0 at Fort Mill. Mann lost at Blythewood 3-0.
This weekend will also feature the track and field state championships at Spring Valley High School. Greenville County Schools is well represented at the meet, including 18 qualifiers from the Hillcrest girls team which placed 2nd overall in 2018.
Posted: 5/9/2019 | Author: Jeff Hoffman