Eastside & Hillcrest Claim State Titles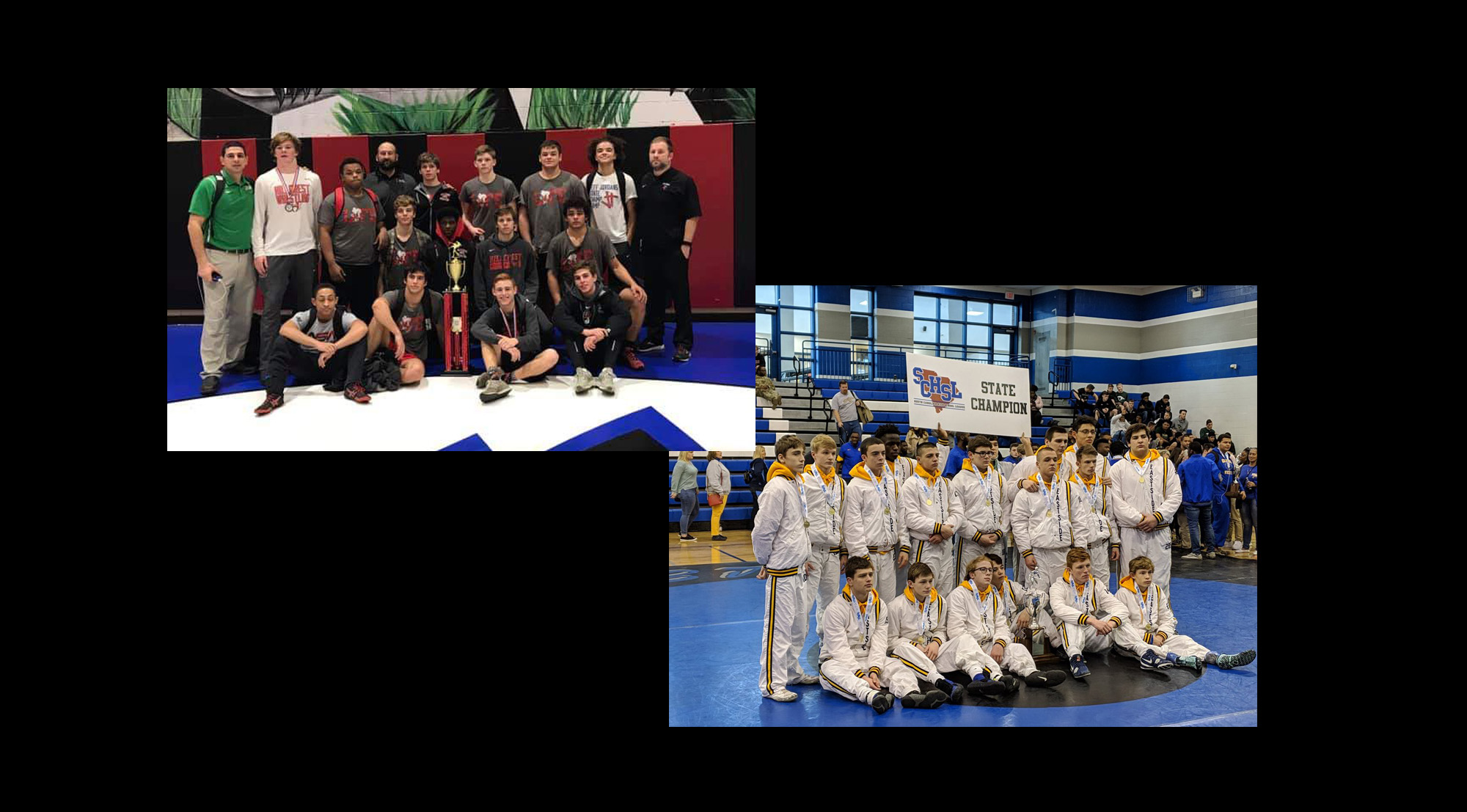 Coming off convincing playoff wins over 3rd ranked York (78-4), 14th ranked BHP and 2nd ranked South Pointe (47-9), the Eastside Eagles entered the Class AAAA SCHSL State Championship as heavy favorites to win their 4th consecutive state title against top 10 ranked North Myrtle Beach. Starting at 132, the Eagles opened with pins from Tucker Allen, Riley Augustine (138), Ben Maholtz (145) Bryson Ethington (152) and Ryan Augustine (160) before they finally dropped a match at 170. Jake Peery (182) and Chase Barnes (195) followed with pins as the Eagles jumped out to a huge lead. North Myrtle Beach got wins at 220 and 285, but it was all Eastside to finish. Roy Price (106), Aden Leonard (113), Jordie White (120) and Taz Nelson (126) closed out the match with pins as Eastside cruised to a 66-15 victory. The title marks the Eagles fourth straight and 14th overall.
Hillcrest entered the playoffs ranked #2 in Class AAAAA, but had a more difficult journey to state. The Rams finished second in their region to top-ranked Byrnes and had to open the playoffs on the road at Lugoff-Elgin. The Rams opened with a 48-21 win over Greenwood and followed with a round 2 40-14 victory over 5th ranked host Lugoff-Elgin. Next Hillcrest traveled to state power Rock Hill and defeated the 3rd ranked Bearcats 34-26, setting up a rematch with top-ranked Byrnes. The Rams eeked out a 28-24 victory to advance to the state title match where they faced 7th ranked River Bluff. Walker Stephenson opened at 170 with a pin for the Rams and Eyan McKnight followed at 182 by scoring a Major Decision. River Bluff took the next three matches. Josh Wilkerson scored a huge pin at 106 to stem the River Bluff momentum. Treavelle Westfield followed with a Major Decision at 113. Dylan O'Keefe (120 decision) and Darren O'Keefe (126 pin) gave the Rams a solid lead with five matches remaining. Michael Shiffer won with a pin at 132, but River Bluff came away with pins at 138 and 145 which put the Rams title chances in serious doubt. Grantt Hopkins ended all doubt with a pin at 152 securing a 41-30 victory for Hillcrest. The Rams claimed their 3rd duals title and first since 2012.
Posted: 2/11/2019 | Author: Jeff Hoffman