2019 Individual State Wrestling Results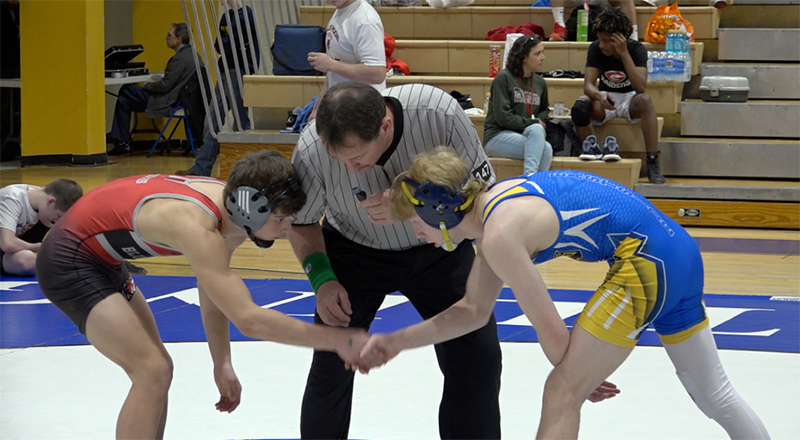 As they've been all season, Eastside High wrestling was once again dominant at the 2019 State Individual Wrestling tournament.  The Eagles racked up 202 points to easily have the highest team score.  Eleven Eastside wrestlers placed in the top four in their weight class with six claiming individual state titles.  Overall ten GCS wrestlers earned individual state titles.
For Eastside, the Augustine brothers earned a pair of state championships as Riley scored a Major Decision (9-0) at 138 and Ryan won by Fall at 152.  Tucker Allen won a 6-4 decision to grab the title at 132.  At 145, Ben Maholtz won by Fall at 1:06.  Bryson Ethington won the title at 152 by Fall and Chase Barnes won a 13-9 decision at 195.  The Eagles also got a 2nd place finish from Jordie White at 126.  White fell just short of winning his 8th state title, having won four team titles and titles at 106, 113 and 120 the previous three years.  White lost 7-4 in the title match to Colleton's Wyatt O'Quinn who was named Most Outstanding Wrestler of the tournament.  Miles Scott (182), Roy Price (106) and Aden Leonard (113) all grabbed 3rd place finishes for Eastside and Taz Nelson (120) placed 4th.
Travelers Rest also grabbed a pair of state championships with Zeiran Riley winning at 170 by Fall.  At 220, Gary Holmes also won by Fall.  Toby Foster scored a 4th place finish for the Devildogs.  Blue Ridge got a pair of 3rd place finishes from Kaleb Horn (160) and Michael Kemp (195).  Kemp defeated Berea's James Brisbane in a 4-1 decision.  Ronald Mackey finished 4th for the Tigers and Greer got a 3rd place finish from Ellison Flores at 170.
In Class 5A, Hillcrest (5th), Woodmont (7th) and Hillcrest (10th) all finished in the top 10 in the team scores.  Hillcrest's Walker Stephenson grabbed the title at 170 with an 11-3 Major Decision.  Woodmont's Jake Fernicola got a pin to win the title at 220.  Woodmont also got a pair of runner-ups from Garrett Starks (152) and Thomas Schock (145).  Mauldin's Jeremy Fisher placed 2nd at 160.  Fellow Mavs Thomas Snipes (113) and Ricky Jeletic (145) placed 4th overall.  Hillcrest got a 3rd place finish from Evan McKnight (182) and a pair of 4th's from Dylan O'Keefe (120) and Tyler Kilgore (195).
In Class 3A, Carolina's Tim Whitley recorded a Fall over Pelion's Will Jeffcoat to claim 3rd place at 220.
Congratulations to all of our wrestlers and our 2019 State Champions on a terrific season!
For complete results, visit SCMAT.
Posted: 2/26/2019 | Author: Jeff Hoffman