SCHSL Basketball Playoffs: Round 2 Preview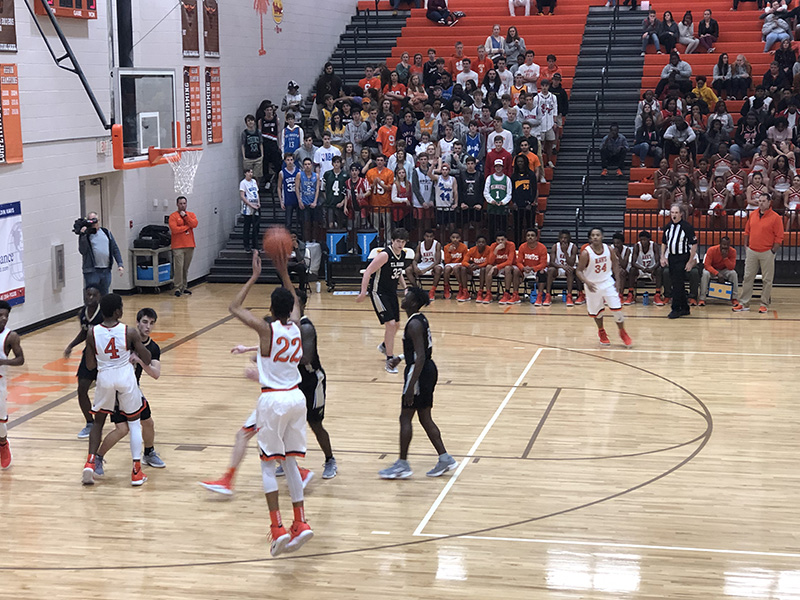 Southside girls basketball got things rolling in second round playoff action with a thrilling 48-47 victory over Pendleton.  Head Coach Milton Parks has a very young team and early in the season he challenged them with a tough non-region schedule.  That adversity has made the Tigers ready for playoff pressure with a roster that has only one senior, C/F Kianna Williams.  Southside won their region despite having seven freshmen and three 8th graders on the roster.  The Tigers are young, but very talented and they continue to improve as the season wears on.  Anaya Muhammad, one of those talented 8th graders, lead the team in scoring this year.  Against Pendleton the phenom PG again lead the Tigers with 19 points.  Freshman Destiny Blassingame chipped in 9 and 8th grade C/F Makaylah Blandin chipped in 6.  Despite their youth, Southside never got rattled when Pendleton tied the game at 42 late and with under a minute to play 8th grader Quayla Nolan calmly scored three points to help preserve the one point victory.  The Tigers will host Emerald on Monday night as they try and earn a spot in Upper State.
It wasn't long ago that Woodmont was like Southside, a team full of young and talented players eager to prove themselves.  Now the Wildcats are one of the top teams in Class 5A lead by senior Xan Rowland and juniors JaRae Smith and Sydney Wyatt.  The Wildcats went undefeated during the regular season and cruised in their round one win over Spartanburg 72-29.  Woodmont will host Clover tonight at 6:30 pm as they look to stay hot and make it to the 3rd round where they could potentially face the only team to defeat them this season, the Dorman Cavaliers.  Dorman edged the Wildcats at the Red Raider Thanksgiving Invitational.  Woodmont would love another crack at the Cavaliers.
The Southside boys know a lot about winning in the playoffs.  The Tigers are back to back Class 3A state champions and opened the 2019 playoffs with an impressive 74-53 victory over Union County.  Thanks to an upset by Fairfield-Central over Pendleton, the Tigers will be home again as a 2-seed tonight.  
4A girls also return to the court tonight with Blue Ridge hosting South Pointe and Greenville traveling to Lower Richland.  The Tigers are lead by twins Abby and Baylie King.  Abby leads the team in scoring and recently went over 1,000 points for her career as a junior.  Baylie leads the team in rebounding and is one of the emotional leaders for Blue Ridge.  Freshman PG Quadaija Langley has stepped in and given the Tigers a solid ball handler who is second on the team in scoring.  Blue Ridge defeated Walhalla 67-42 in the opening round.  The Tigers will need their defense tonight to slow down a South Pointe team that scored 82 in its opening round victory.  Greenville defeated Palmetto 64-30 in the 1st round.  The Red Raiders had questions this season about where the scoring would come from after losing a very talented senior class that included West Virginia commit Madisen Smith.  A group of sophomores has stepped up, including leading scorers Trinity Frnaklin (12.3 ppg), Taylor Pace (11.7) and Julia Bucci 9.9).  Greenville will need to be solid in the post to slow down Lower Richland's Ireona Brooks who leads her team in points and rebounds.
On Saturday night the 4A and 5A boys take the floor for their second rounds.  Greenville opened with a solid 52-38 win over Daniel.  Like the girls team, the Red Raider boys lost a lot of scoring off last season team and like the girls, the boys have hardly missed a beat.  Greenville went 10-0 in region play and has been very balanced on offense and relentless on defense.  Senior Dorian Williams has taken on more leadership and 10th grader JQ Jones has given Greenville a versatile post presence.  The Red Raiders are very versatile and can go small and fast with Jones at center or go big when they bring in 6-7 Jimmy Fritzsche to attack in the post.  Greenville will host a strong Westwood team on Saturday night.
Travelers Rest exploded out of the gate to open the playoffs with a 97-49 win over Palmetto.  6-5 junior Case Roach leads the team in scoring and fellow junior Derrick Fields is an explosive athlete on the wing.  The Brown brothers, Sam and Jacob carry on a family legacy of success at TR.  The Devildogs will travel to AC Flora who locked down Lancaster, holding them to 38 points in the opening round.  TR will need to stay hot vs a very tough Flora team at 2:00 pm on Saturday.
In Class 5A, Mauldin hosted their first home playoff game in over 10 years and the Mavericks celebrated with a 65-62 victory over TL Hanna.  Senior AJ Jackson scored 13 of his game high 30 in the 4th quarter to help seal the victory.  Fellow senior Eric Washington did a little bit of everything, including 15 points, 10 rebounds and several key blocks on defense down the stretch.  Jameson Tucker chipped in 16.  Mauldin will travel to Spring Valley, who survived a scare vs Mauldin's region rival Byrnes, 52-48.  The Mavericks will need their veterans to play big again if they hope to advance.
Wade Hampton and Riverside opened the season with a home and home series in which they split, with each team winning its home game.  In the opening round of the playoffs they met again and again Wade Hampton with home court advantage was able to secure the victory.  Wade Hampton has been star driven the last few seasons and been a contender in Class 5A every year under head coach Reggie Choplin.  This year the Generals are far more balanced and their team over star mentality has been key to their success with a relatively young and inexperienced roster.  Juniors Jack Edwards, Nick Brennegan and Tyler Bowens have stepped up big time for the Generals this season.  Big test for Wade Hampton on Saturday as they travel to Nation Ford, who eliminated JL Mann in the opening round 55-40.  The Generals will need a team effort to pull off the upset.
After this weekend teams go right back to action for the 3rd round on Monday and Tuesday next week as we inch ever closer to Upper State and then a trip to Columbia.
Posted: 2/15/2019 | Author: Jeff Hoffman