2019 GCS Basketball Update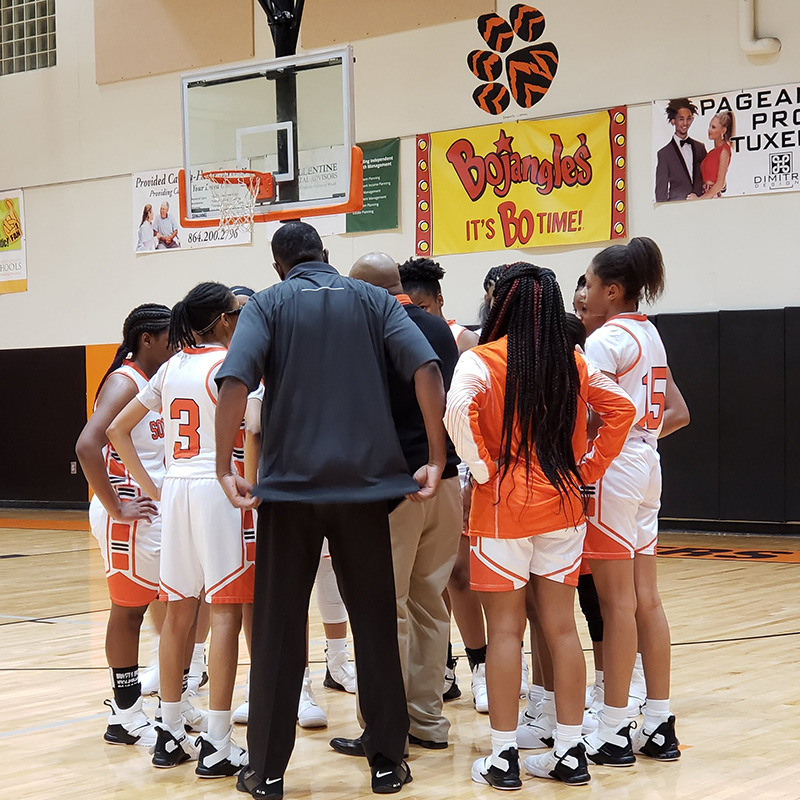 We've reached the new year and for high school basketball that means region play! Holiday tournaments wrapped up and for the most part non-region games are over as teams head to region play looking to make their mark before the playoffs start. Games mean just a bit more from this point forward!
In Region II-AAAA, the Greenville High boys and girls teams both came into 2019 needing to find replacements for All-State players who graduated after leading the Raiders to Region I-4A titles. The girls are off to a 7-2 start behind a very young team. The Raiders have seven sophomores and one freshman on their Varsity roster and they all play a key role. 10th graders Julia Bucci and Trinity Franklin are leading the Raiders in scoring thus far this season. For the boys team, Senior Doriam Williams has picked up scoring that was lost by last years All-State players Wells Hoag and Quadre Parks. Junior Quentin Williams has also embraced a bigger role this season. Sophomore JQ Jones gained valuable experience last season off the bench and has taken to a bigger role this season. The Red Raider boys won the annual C. Dan Joyner Poinsettia Classic with Williams, Jones and Malik Norris earning All-Tournament honors. Greenville opens region play vs longtime county rival Greer.
The Lady Jackets are off to a solid 7-4 start this season. Senior Caroline Littlefield leads the Jackets in scoring, but she is one of only two seniors on the roster. Freshman Jenna Sudduth has come in and sits right behind Littlefield in points per game. With six sophomores, three freshmen and an 8th grader, the Jackets are ahead of schedules heading into region play. On the boys side, the success of the football team reaching the state championship game has hindered the early season growth of the basketball team. The Jackets enter 2019 with only one victory.
Travelers Rest is off to a good start for both their girls and boys teams. The girls are 8-2 and feature a nice blend of youth and senior leadership. The Taylor's (Taylor King, Taylor Reynolds and Taylor Thornton) give the Devildogs leadership in the post and at guard. Six sophomores and three juniors add depth and athleticism for TR. A trio of juniors lead the boys team in scoring as TR is off to a 7-3 start. Case Roach, Derrick Fields and Sam Brown all enter region play averaging double figures. The Devildogs went unbeaten in the North Henderson Christmas Tournament and will open region play against Eastside.
Eastside is off to a slow start for both the boys and girls programs. The boys team is junior heavy, with only three seniors on the roster (Roderick Landrum, Jordan Crucey and Gray Aust). The Eagles (3-7) are coming off a win over Pendleton where they had their best offensive night on the season. The girls head to region play at 2-8. They too only feature three seniors; Bella Schmid, Emily Brown and Kate Kissam.
The Blue Ridge girls were very young last year and still made the 4A playoffs. The Lady Tigers still only have three seniors on roster, but experience gained by young players last year has propelled the girls to an impressive 10-2 start. Junior Abby King is averaging close to 20 points per game and freshman point guard Quadaija Langley is averaging in double figures as well. The Lady Tigers are deep and have a lot of experienced youth as they look to challenge for the region crown. The Blue Ridge boys team has struggled to close out games and carries a 4-8 record into region play. Seniors Shawn Stokes and Sam Tease are both averaging 16 ppg and freshman Justin Bailey has been a nice addition adding 10 a game. The Tigers open region play against Berea.
The Bulldogs are making the jump up to Class AAAA this season. The boys team is young, inexperienced, but athletic. The Bulldogs are off to a slow 3-9 start, but hope their young group can come together in region play to push for a playoff spot. The girls team enters region play at 3-8.
In Class AAA, Southside boys are the defending state champions and the girls team earned a playoff spot last season. The Lady Tigers are 4-9 and opened region play with a win over Broome. Southside features one senior, one sophomore, seven 9th graders and three 8th graders. They are very raw and inexperienced, but also very talented and a threat in Region II-AAA. The Southside boys had a crazy start to the season. The defending state champions lost their head coach to retirement just a few games into the new season. Veterans like RJ Campbell in the post have kept the Tigers from straying off track. Southside is 7-3, but 0-1 in region play. The Tigers did go down to Murrell's Inlet and win the St James Holiday Tournament.
In Region I-AAAAA, the Woodmont girls have established themselves as the team to beat. The Lady Wildcats are 10-0 and 3-0 in region play, winning region games by scores of 70-32, 67-55 and 54-34. Senior Xan Rowland and juniors Sydney Wyatt and JaRae Smith all are averaging in double figures. The Wildcats only loss came in a preseason tournament to Dorman, a team they could very well see again come playoff time. On the boys side, Woodmont is currently 2-8 and 0-3 in region play.
JL Mann took huge strides last season to reach the playoffs under new coaches following a really bad 16-17 season. Both teams are trying to build off that success this season. The girls sit at 9-4 (3-1), still a very young roster with only one senior on the team. Junior Naomi Davidson leads the Patriots in scoring and freshman Ja'nika Mack is also averaging double figures. The boys team opened with a very ambitious schedule, challenging themselves before region play. The Patriots head into the new year at 7-6 overall and 1-3 in region play. They will need to get rolling if they hope to make a return trip to the postseason.
Wade Hampton joins Region I after being a force in Region II-5A the past few seasons. The Generals are only 5-3, but 3-0 in region play heading into 2019. With the graduation of Will Edwards in the post, the Generals have become more of a perimeter team lead by junior G Nick Brennegan. The Lady Generals came into 2018-19 rebuilding the corp of last seasons state runners up. Despite a slow start, the Generals sit at 4-4 and just picked up their first region victory last week.
In Region II-AAAAA, the Mauldin Mavericks are making some noise at 10-2 overall and 3-1 in conference. Mauldin has two 4-year starters in Eric Washington and AJ Jackson. Sophomore Jameson Tucker has moved up the Varsity and added a long wing player who can fill up a stat sheet. Tucker is averaging over 16 points a game. Jackson is adding over 13 and junior Sully Reames is hovering around 10 a game. Like every team in region 2, the Mavericks are trying to dethrone the Dorman Cavaliers. Dorman has already handed Mauldin their lone region loss. The Lady Mavs are 3-8 and 1-3 in region play. Sophomore Jalani Adams has double-double potential for the Mavs in the post.
The Hillcrest girls are 8-4 and 2-2 in region play, but are coming off a big break where they won the Laurens Holiday Tournament. The boys sit at 7-4, 2-2 lead in the post by Junior Justin Amadi. The Rams won a buzzer-beater thriller over region rival Spartanburg.
The Riverside boys gave Dorman all they could handle last season in the Upper State semi-finals. The Warriors are having a quiet 8-4 season thus far. At 1-2, Riverside will need to kick things up in '19 to make a return trip to the postseason. The Lady Warriors have yet to win a game as they go through a rebuild this season.
Still a lot to be decided in 2019 as teams crank up region play. Should be a wild race in Region II-4A girls as TR, Blue Ridge, Greer and Greenville all make a push for a region crown. Can Southside repeat in Class AAA with a new coach? Woodmont girls figure to be a power in Class 5A and in Region II-5A, Mauldin, Hillcrest and Riverside all look to be in playoff contention behind region favorite Dorman. Check team pages for schedules and updates.
In GCS Middle School basketball. Mauldin (5-1) and Woodmont (6-1) are off to hot starts in the South Division. Berea is the early frontrunner in the West at 5-1 and 5-0 in division play. Greenville leads the North at 7-1 (6-0) and at 5-2, 4-0 Fisher leads the East.
Hillcrest and Blue Ridge are unbeaten in the girls standings. The Tigers lead the North by two games already at 6-0, 5-0. As do the Wildcats in the South at 6-0. Tight race in the West with Northwest at 4-2, 3-1 and Sevier at 4-2, 4-1. Beck is 4-1, 3-0 and holds a one game lead on League at 4-2, 2-1. Only a few weeks left in the middle school season.
Posted: 1/7/2019 | Author: Jeff Hoffman