Week 8 Preview - GCS High School Football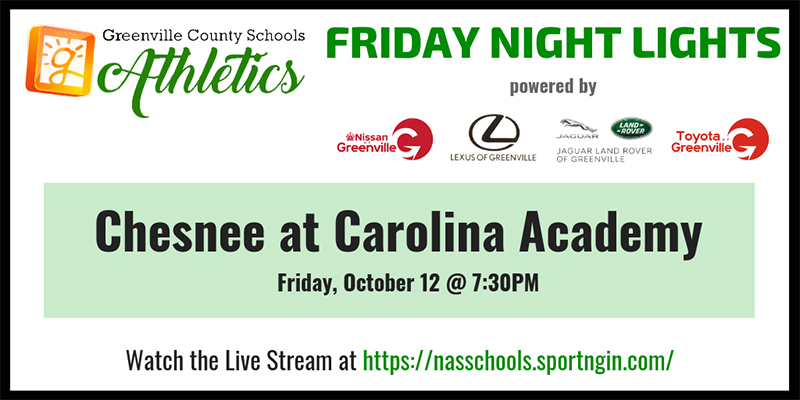 Our featured Game of the Week takes us to Region II-AAA, where the Carolina Trojans will play host to the Chesnee Eagles. The Trojans (0-7, 0-1) are looking for their first win under new head coach Will Owens, but more importantly they are seeking their first region win against a Chesnee team that is also winless in region play. Carolina QB Austin Neese has shown progress this season and the young Trojans are looking for that break through victory. You can stream the game live at GCS Friday Night Lights
Also in Region II-AAA, the Southside Tigers have show tremendous growth under their first year head coach Jeremy West. The Tigers are 5-2 overall and 1-0 in region play. Southside is powered by a dynamic run game that features versatile QB Jalon Calhoun, a Georgia Tech commit next fall. Joining Calhoun in the backfield is newcomer Brayden Bennett at running back. Bennett is averaging over eight yards per carry and is among the county leaders in rushing with 713 yards gained. Calhoun and Bennett help rest a young and improving Tiger defense and make Southside a threat to content for a region crown this year. Next up for the Tigers, a trip to Broome (3-5, 1-1).
Region II-AAAAA is loaded with Upstate powerhouse programs. Five teams from this region (Dorman, Mauldin, Hillcrest, Gaffney, Spartanburg) all won at least one playoff game last season. Byrnes made the playoffs in 2017 and currently leads the region with a 4-0 mark. Boiling Springs, who did not make the 2017 playoffs sits at 3-1 this season. Mauldin and Hillcrest both find themselves in a position where they are down in the standings and scratching and clawing to get into the playoffs either as one of the five automatic bids or as the Upper State At-Large team. Mauldin (2-5, 1-3) will host Spartanburg (2-5, 1-3) for Homecoming Week in a must win game for the Mavs. Both Mauldin and Spartanburg sit at one region win with Hillcrest. A second region win this weeks gives the winner the upper hand in the final weeks of the season. Mauldin got a 2nd half spark in their 31-20 loss at region leader Byrnes. Trailing 31-0, the Mavs scored 20 unanswered and shut down the Rebels in the 2nd half. QB Joe Owens connected on two deep TD passes to Hosea Mattison and Jameson Tucker and the defense added an 82-yd fumble return for a score by Devon Scott. This is the third game in a row the Mauldin defense has scored a touchdown. Mauldin will look to build off that momentum as they host the Vikings.
Hillcrest (3-4, 1-3) finally got a region win over Riverside last week. Back up QB Ethan Beamish got his first start of the season and threw for four touchdowns on the night as the Rams cruised to a 57-19 victory. This week the Rams travel to Boiling Springs (4-3, 3-1). The Bulldogs currently sit tied for second in region play and have knocked off Mauldin and Spartanburg in back to back weeks. The Rams will look for Beamish and the offense to get the ball outside to playmakers Quen Jefferson and Deonte Smith. Hillcrest needs to get off to a quick start, in their first three region losses they trailed by at least two scores in the 1st quarter in each game.
Riverside (0-7, 0-4) will host Gaffney (6-1, 3-1) on Friday night. The young Warriors team has struggled early in games to keep things close and to slow the pace. QB Andrew Brown has had some success orchestrating the Warriors option offense, but often later in games when things are out of control. Riverside will need to slow down and limit Gaffney's big play offense.
In Region I-AAAAA, The Woodmont Wildcats (3-4, 3-1) have put themselves in prime position for a playoff spot. After an 0-4 start, the Wildcats have won three straight region games, knocking off Wade Hampton, JL Mann and Laurens. The Wildcats defense has been outstanding since the start of region play, as Woodmont has outscored opponents 100-41. The Wildcats offense has also come to life behind QB Clay Bartunek, scoring at least 30 points the last three weeks. Big test for Woodmont on Friday as they host Westside. Like the Wildcats, Westside started 0-3 and has turned things around in region play sitting with an identical 3-4, 3-1 region record. The Rams have averaged over 44 points per game in region play and their only loss to region leader TL Hanna.
Wade Hampton will travel to those Yellow Jackets this week with the two teams trending big time in opposite directions. TL Hanna sits at 7-0 and 4-0 in region play and the Jackets have an experienced roster with playoff experience. The Generals are currently 0-7, 0-4 with a very young roster, especially along the offensive and defensive front. Wade Hampton will need to slow down veteran QB Alex Meredith and the vaunted Hanna option run game. The young Generals OL will face their toughest test of the season in a Hanna defense that has been dominant this year and features one of the top prospects in the state, DE Zacch Pickens. Wade Hampton has to keep the game low scoring to give themselves any chance.
It's Homecoming Week for JL Mann (0-7, 0-4) as they prepare to host the Laurens Raiders (2-5, 1-3). The young Patriots need to find some consistency on the offensive side of the ball. On defense Mann will need to slow down an athletic and physical Laurens run game.
In Region II-AAAA, Greenville (4-3, 1-1) will host Travelers Rest (5-2, 0-2) in a huge region matchup for both teams. The Red Raiders three losses on the season have all come to 4A powers in close games, losing to BHP and South Pointe on the road and a home loss to region co-leader Greer. Travelers Rest started the season 5-0, but in region play they've lost to the region co=leaders Eastside and Greer. The Eagles defeated the Devildogs by one in overtime two weeks ago and last week Greer cruised past TR in a game the Devildogs struggled to find balance on offense. TR will look to get their running game back on track vs Greenville to keep Pitt commit Davis Beville and the Red Raiders offense on the sidelines.
Eastside (6-1, 2-0) has climbed into the Class AAAA Top 10 state rankings. The Eagles have used two quarterbacks this season with Dawson Conrad and Marshall Skoloff, but that has not slowed down the Eagles attack. No matter who is at QB, Eastside is loaded with weapons, including receivers Payton Mangrum and Armani Elmore and backs Max Louris and Reggie Rodgers. Eastside hosts a young Blue Ridge team that has played better as the season has progressed, including a region win over Berea two weeks ago. First year head coach James Thurn is looking for improvement and consistency from the young Tigers (1-6, 1-1). The key for Blue Ridge this week will be to control the clock and try and keep the Eagles offense grounded.
Greer dominated TR last week on the ground, rushing for over 300 yards on the night and limiting the Devildogs to negative rushing yards. Not good for a young Berea team that relies heavily on their ground game to move the ball. Greer (6-1, 2-0) looks to stay atop the region, while Berea (1-6, 0-2) is still looking for their first region win.
Posted: 10/12/2018 | Author: Jeff Hoffman