Week 10 Preview - GCS High School Football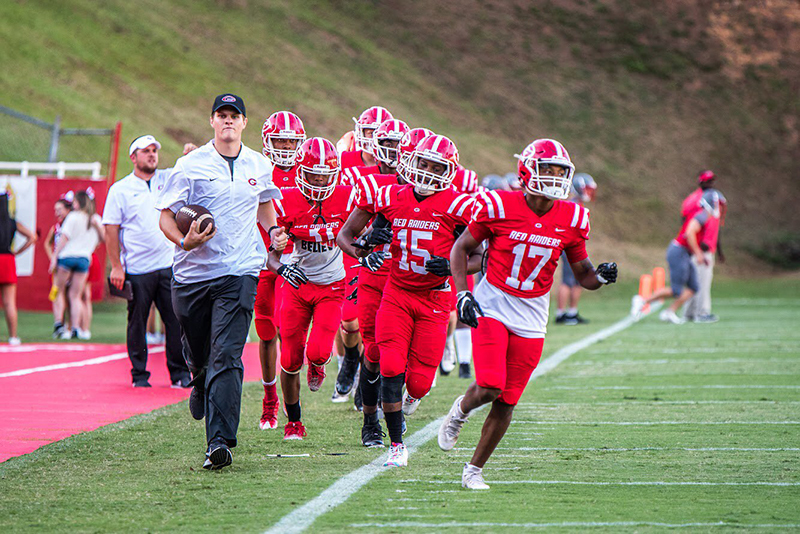 It is Week 10 of the high school football season. The final week of the regular season features teams jockeying for playoff position, trying to build momentum heading into the offseason and celebrating the final home game for seniors. Woodmont has a huge game for Senior Night as the Wildcats have rattled off five straight wins and have given themselves a shot at the Region I-5A title. Woodmont (5-4, 5-1) will host undefeated TL Hanna for the region title on Friday night. The Yellow Jackets enter as one of the top teams in Class AAAAA and with two Shrine Bowl players in QB Alex Merdith and DE Zacch Pickens, one of the top recruits in the state. Woodmont has relied on defense and their run game during their five game win streak and Friday night will be no different. QB Clay Bartunek will pilot the Wildcat offense as they try and navigate the dangerous Hanna defense. Expect a low scoring game as both teams are able to chew up clock on the ground.
Down on the Golden Strip longtime rivals Mauldin and Hillcrest face off in a must win game for both teams. Mauldin (3-6, 2-4) currently occupies the fifth and final playoff spot out of Region II-5A. A win by the Mavericks guarantees them a spot in the 2018 playoffs. Hillcrest (4-5, 1-5) sits a game back and a win by the Rams will most likely create a three-way tie for the final playoff spot between the Rams, Mavs and Spartanburg. At that point region tiebreakers come into play, but Hillcrest would give themselves a shot at the 5th-seed as well as a potential At-Large berth with their .500 record. This game features a Shrine Bowler in the Rams Quen Jefferson at WR squaring off against two Touchstone Energy Bowl North-South All-Stars in Mauldin defensive backs Brendan Killough and Jalen Anderson. Win and get in! Not much more you can ask for from a rivalry game in the final week of the regular season!
Over at Eastside, the Eagles host Greenville for the #2-seed and a home playoff game out of Region II-4A. Shrine Bowl QB Davis Beville leads the Red Raiders potent offensive attack against All-State WR Payton Mangrum and Eastside's high powered offensive attack. Winner gets a home playoff game. Loser takes the #3-seed and hits the road. Eastside has gotten balanced on offense with two QBs sharing reps in Marshall Skoloff and Dawson Conrad. Max Louris has come in and rushed for over 1000 yards for the Eagles in 2018. Greenville also has a 1000 yard rusher in Collin Wakefield who has put up huge numbers behind an improving Raiders offensive line lead by Touchstone Energy Bowl selection Stephon Stokes. Should be a fun game on Thursday night.
Longtime 3A rivals Southside and Carolina will also play on Thursday night. Southside is 6-3 and 2-1 in region play and has already locked up the #2-seed out of Region II-3A. After losing QB Jalon Calhoun, a Shrine Bowl selection at defensive back, for a stretch midseason, the Tigers unleashed RB Brayden Bennett who currently leads the county in rushing at over 1300 yards. Jamie Gamble has also stepped in to take some of the QB stress off Calhoun and has played well for the Tigers. Southside enters the playoffs with big time playmakers on offense and a defense that has show improvement throughout the season. Carolina sits at 0-9 on the season and looks to pull the upset and get some momentum heading into the offseason. QB Austin Neese has performed well in his first year as a starter.
Greer has a pair of Shrine Bowlers and a Touchstone Energy Bowl All-Star who will play their final regular season home game at Dooley Field on Friday night. Dre Williams is 1000 yard rusher averaging nearly eight yards per carry to power an explosive Jacket offense. Quack Cohen is a disruptive force on the defensive line who can play anywhere along the front. Both Shrine Bowlers will join North-South offensive lineman Kyle Schneider in their final regular season home game. The Yellow Jackets (8-1, 4-0) have already locked up the #1-seed out of Region II-4A and a home playoff game. Greer will host rival Blue Ridge (1-8, 1-3) to close out the regular season. If the Tigers can find a way to pull the upset they just might sneak into the 2018 playoffs.
For Blue Ridge to have a chance at the playoffs they must win and Berea must defeat Travelers Rest. The Devildogs were the last remaining unbeaten in Greenville County, but a rough stretch to open region play has them playing a must win game on the road at Berea to grab the fourth and final playoff spot out of Region II-4A. The Bulldogs are eliminated from playoff consideration, but would love to send their seniors out with a win and the pleasure of knocking longtime rival TR out of the playoffs.
JL Mann, Riverside and Wade Hampton are also eliminated from the playoffs. Wade Hampton picked up a big win Friday over Mann to give their seniors a victory on Senior Night. Now the Generals look to build off that momentum and perhaps shake up the standings in Region I-5A as they travel to Westside. Mann wants to give their seniors a win on Senior Night as they will host Greenwood on Thursday night. The Eagles feature a top notch defense, but have struggled to score points this season. Mann will try and keep things close and find a way to get their first W of the season. Riverside is also looking for momentum heading into the offseason as they host Dorman on Senior Night. The Cavaliers are currently tied for the Region II-5A lead and Friday night is must win for them if they want a share of the region crown. Senior QB Andrew Brown hopes to spoil things for Dorman and end his career at Riverside with a victory.
Dress warm and come out and support your team as the regular season comes to a close on Thursday and Friday night!
Posted: 10/25/2018 | Author: Jeff Hoffman