Week 6 Preview - GCS High School Football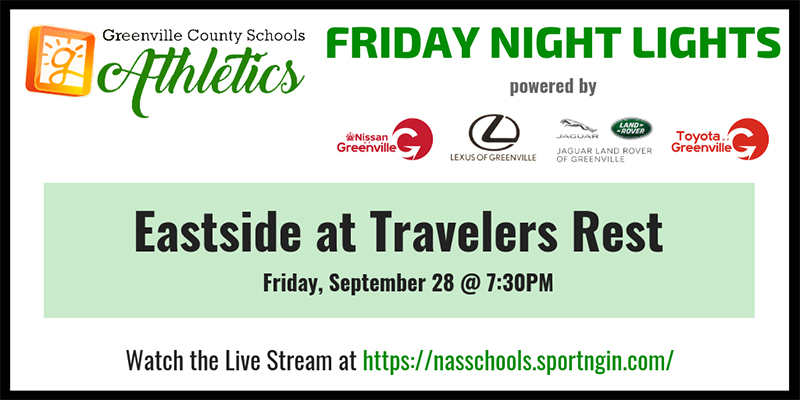 Week 6 of the high school football season is upon us. This week all GCS teams enter or continue region play. The setup of the SCHSL football playoffs relies almost entirely on region standings to determine playoff seeding, so the importance of games ramps up from now until the end of the season. Our featured Game of the Week features Region II-AAAA rivals Eastside and Travelers Rest. Early on people knew Eastside could contend for a region title if they could get their quarterback situation settled. Marshall Skoloff opened the season as the backup, but after leading two fourth quarter comeback victories, Skoloff secured the starting job and Eastside raced out to a 4-0 record before falling at 3A power Chapman last week. The Eagles made the 3rd round of the playoffs in 2017 and returned a stable of offensive weapons, including receivers Payton Mangrum and Armani Elmore. RB Max Louris joined the team after leading Riverside in rushing last season and compliments speed back Reggie Rogers, who can line up all over the field. If the Eagles could get improvement from their young offensive line and defense, then it was understood they could compete with Greenville and Greer at the top of Region II-AAAA. Travelers Rest was less of a certainty. The Devildogs faced a rash of injuries in 2017, failed to make the playoffs and finished the season 1-9. But a new year has brought new opportunities and the Devildogs have taken advantage. TR is the last remaining unbeaten in county at 5-0. On defense, the Devildogs have already pitched two shutouts and have only surrendered 46 points all year. On offense TR is averaging 42 points per game with a balanced attack. QB Wilson Hendricks runs the show and he has weapons on the outside in Derrick Fields and Esias Tucker. Hendricks and RB Deonte Byrd give TR a one-two punch out of the backfield. Eastside will be TR's biggest test of the season thus far and the Devildogs are out to prove they belong. You can stream this game at https://nasschools.sportngin.com/
Region II-AAAA could legitimately have two games of the week this week. It doesn't get much better than longtime rivals Greer and Greenville doing battle at Sirrine! The Yellow Jackets enter having won four straight games, three over 5A opponents. The Jackets defense has only given up two scores over the last two weeks. For Greer, everything starts up front with where Senior Quack Cohen anchors an exceptional defensive front. Greenville had to replace their top seven offensive lineman from a year ago. The young Raiders front has played well as QB Davis Beville gets the ball out quick to playmakers like Aziz Huff and Caleb Krall. Greenville also boasts the county's leading rusher in Collin Wakefield. On the other side of the field, RB Dre Williams has established himself as one of the top backs in the state. Williams forces defenses to gameplan for him and opens things up for QB Treyvion Houston and the Jackets big play passing attack. Greenville is unbeaten at home and their two losses have come by a total of two points at 4A powers BHP and South Pointe. Winner of this game sets themselves up nicely for a potential #1-seed come playoff time.
Rounding out Region II-AAAA are two young teams, hoping to battle for the fourth and final seed out of this region. Blue Ridge enters the game winless, coming off a trip to Florida which allowed the team to bond together. The Tigers are improving under first year head coach James Thurn and hope to grab their first win at home vs Berea. The Bulldogs are 1-4 to open the season and coming off a bad loss at home to longtime foe Southside. Berea is also very young and they are hoping their athletes will start to show improvement in region play.
Coming off the 55-10 win over Berea, Southside (4-2) will travel to Chesnee (2-4) to open play in Region II-AAA. The Tigers new they had a dynamic playmaker in QB Jalon Calhoun coming into the season. What they were not sure of is who would be able to take some of the pressure off Calhoun who also plays on defense this year. Enter RB Brayden Bennett. Bennett enters region play averaging over 8 yards per carry and having scored 8 touchdowns. His running and Jamie Gamble stepping up to take snaps under center and allow Calhoun to move around has the Tigers off to a great start under new head coach Jeremy West.
In Class AAAAA Region II, Mauldin travels to Boiling Springs to battle their statistical doppelganger. The Mavericks and Bulldogs both enter week 6 at 2-3 on the season and 1-1 in region. Both got their one win over Riverside. Mauldin has scored 126 points thus far. Boiling Springs 122. The biggest advantage for the Mavs comes on the defensive side of the ball. Mauldin has only given up 100 points as opposed to the Bulldogs 181. Mauldin will rely on that defense, lead in the secondary by seniors Brendan Killough, Devon Scott, Jalen Anderson and junior Andru Phillips to try to keep Boiling Springs in check and secure a huge region victory in possibly the toughest region in the state.
Just how difficult is Region II-AAAAA? Hillcrest entered region play at 3-0. After two weeks of region play the Rams now sit at 3-2 and are desperately seeking a region victory. The Rams battled pre-season region favorite Dorman to a one score loss late in the fourth quarter. Coming off the heartbreaker, Hillcrest failed to show up for a home game against Spartanburg a week ago. The Rams took an early 7-0 lead, but fell 24-7 as their offense struggled throughout. QB Will Watts and WR Quen Jefferson are a dangerous duo and WR Deonte Smith has given them another big play option on the outside this year. The Rams will need to muster some big plays against a Gaffney (4-1, 1-1) defense which is coming off its worst performance of the season in a loss at Byrnes last week.
At 0-5 and 0-2 in Region II-AAAAA, Riverside is just looking to see improvement in its young team. The Warriors face a daunting task this week as they host region power Byrnes (4-1, 2-0). Andrew Brown and the Riverside option attack will have to move the ball against an athletic Rebels defense. They need to limit opportunities for the Byrnes offense to score.
In Region I-AAAAA, Woodmont got its first victory of the season last week. It was an important victory as it moved the Wildcats to 1-1 in region play and put them on a track to try and grab a playoff berth. Woodmont's defense has been outstanding in region play, limiting Wade Hampton to six points after a punt miscue and keep region power Greenwood to three field goals the week before. This week the Wildcats will look to shutdown JL Mann, who is coming off a one score loss against Easley. The Patriots have only mustered 71 points on the season. Woodmont will look to use their option attack and stout defense to keep the Patriots grounded. Mann struggled against run heavy TL Hanna two weeks ago. The Patriots need to improve their rushing defense if they hope to steal victory at home against Woodmont.
Wade Hampton (0-5, 0-2) is still searching for its first victory of the season. The Generals are young across their offensive line and inexperienced on defense. They must find some consistency on offense as they host Easley (2-3, 1-1). The Greenwave escaped with a 21-13 victory last week at JL Mann and will look to add a key region win on the road this week. A win by the Generals keeps their playoff hopes alive.
Carolina (0-6) will be on a bye this week.
Posted: 9/27/2018 | Author: Jeff Hoffman