Week 5 Recap - GCS High School Football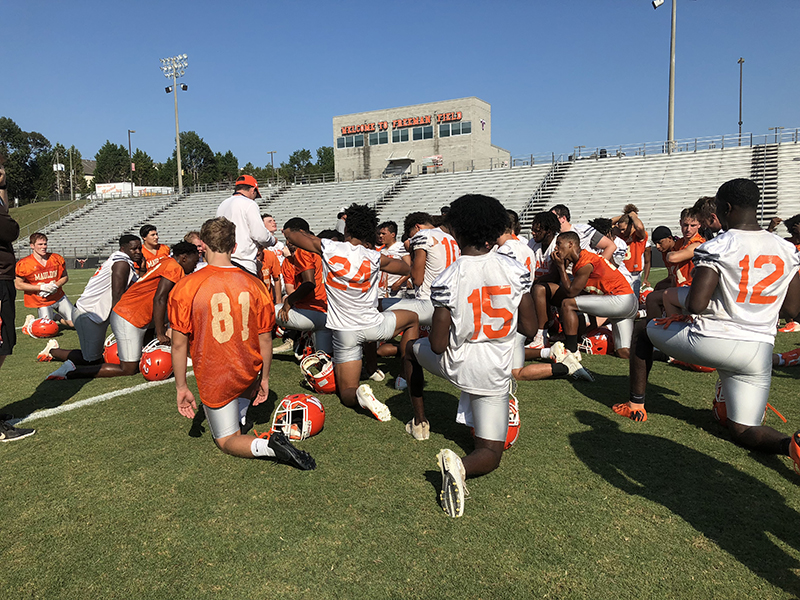 We have reached the midway point of the 2018 high school football season. GCS teams are wrapping up non-region play in Class AAA and AAAA and in Class AAAAA, teams are starting to jockey for playoff position. Our Game of the Week featured Woodmont hosting Wade Hampton in a key Region I-AAAAA matchup. Although both teams entered week 5 with identical 0-4 records, this game was important as the winner would give themselves a shot at earning a playoff berth. Woodmont has relied on their running game to control the clock all season and with it the Wildcats defense has improved each and every week. Last week against region power Greenwood the Wildcats defense limited the Eagles to nine points and zero touchdowns. On Friday night, the Woodmont D was superior again. Wade Hampton's only score came after a muffed punt which gave the Generals the ball on the 2-yard line. Trey Berry punched it in from there, but Woodmont finally found some offense and held a 21-6 lead. The Wildcats would go on to win 31-6 to get their first win of 2018 and more importantly, even their region record at 1-1. Wade Hampton (0-5, 0-2) will host Easley (2-3, 1-1) on Friday. Woodmont (1-4, 1-1) will look to add another region victory as they travel to winless JL Mann (0-5, 0-2).
Mann and Easley met up in Region I-AAAAA action on Friday and the Patriots played their best all around game of the season. Easey grabbed an early 7-0 lead, but the Patriots responded with a TD run by Jaysean Anderson on 4th down to tie it at seven. The score would remain 7-7 into the 3rd quarter. The Greenwave added a short TD run to take a 14-7 lead into the final frame. Noah Staples found Rico Mattison for 56 yards, but the PAT was blocked and the Patriots trailed 14-13. Easley added a late TD run from 54 yards out to seal the deal. Mann will need a win on Friday against Woodmont to keep their playoff hopes alive.
In Region II-AAAAA, Mauldin and Riverside both entered Friday night needing a region win. The Mavericks, coming off a loss at Gaffney where the offense moved the ball but failed to capitalize, jumped on top early and never looked back. After opening with a three-and-out, the Mavericks got a 62-yd TD run from QB Joe Owens on their second possession to take a 7-0 lead. Jordan Franklin added a 29-yd run on their next possession and after the Mavs defense forced a punt, the Mauldin special teams unit added a score after Elias Garza scooped up a blocked punt and rumbled eleven yards for a 21-0 lead after one. In the 2nd quarter, Owens found Jameson Tucker for a pair of 32-yd TD strikes and Jason Branham-King added a short TD run to push the lead to 42-0 at the half. The 2nd half was played with a running clock. Mauldin ran only twelve plays in the half, but sophomore Nick Scott needed only one carry, his first Varsity touch, to rumble 30 yards for a score as Mauldin went on to win 49-13. Andrew Browns and Zach White each had a TD run for the Warriors who fall to 0-5 on the season and 0-2 in region play. Riverside will host region power Byrnes (4-1, 2-0) on Friday. Mauldin (2-3, 1-1) will travel to Boiling Springs (2-3, 1-1) in a pivotal region matchup.
Coming off a heartbreaking, 4th quarter loss at Dorman last week, the Hillcrest Rams were looking to get their first Region II-AAAAA win as they hosted Spartanburg. The Rams ended Spartanburg's 2017 season in the playoffs and looked to push that win streak to two. Quen Jefferson put Hillcrest up 7-0 early with a 12-yd TD run. But it was all Spartanburg after the first quarter as the Vikings tied it before half and outscored the Rams 17-0 in the second half for the 24-7 win. Hillcrest (3-2, 0-2) desperately needs a region win as they travel to Gaffney (4-1, 1-1) next Friday night.
In a matchup of former region rivals, Southside traveled to Berea for one last non-region tuneup. It was all Tigers in a 55-10 route. Berea (1-4) will need to regroup quickly as they open Region II-AAAA play next week on the road at Blue Ridge (0-5). The Tigers (4-2) will open play in Region II-AAA at Chesnee (2-4).
Blue Ridge had a very unique road trip as they traveled to Vernon, Florida to face the Jackets. The young Tigers may not have won the game (lost 34-6), but the team had a chance to visit Doak Campbell Stadium at Flordia State and to bond as a team as they prepare for region play.
Eastside also had their last non-region tuneup before starting play in Region II-AAAA. The unbeaten Eagles traveled to Chapman to face the undefeated Panthers. The two high powered offenses got off to a relatively slow start as Eastside built up a 10-7 lead after one quarter. Late in the 2nd, Chapman grabbed the lead 14-10 and carried that to the half. The Panthers added a pair of scores in the 3rd to push the lead to 28-10. Marshall Skoloff hit Payton Mangrum for a score to cut the lead to eleven, but Chapman added scores on offense and defense as they cruised to a 49-23 victory. Eastside (4-1) will open region play at Travelers Rest, the last remaining unbeaten team in GCS.
Carolina closed out their non-region slate at undefeated Walhalla. It was all Razorbacks as Carolina fell 61-6. Austin Neese hit Dequan Burks for the Trojans only score late in the 4th.
Greer and Greenville joined Travelers Rest on a bye this week. The Red Raiders (3-2) will host the Yellow Jackets (4-1) to open region play this Friday.
Posted: 9/24/2018 | Author: Jeff Hoffman