Week 5 Preview - GCS High School Football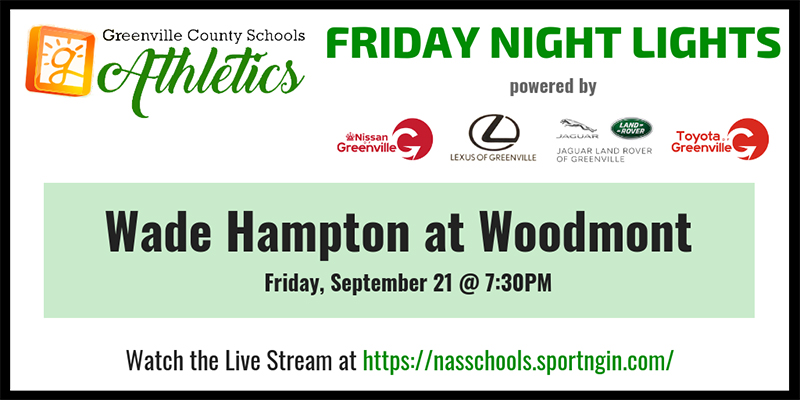 We've reached the midpoint of the high school football season.  Our week 5 Game of the Week features 0-4 Woodmont hosting 0-4 Wade Hampton.  I know what you are thinking, "how can a game between two winless teams be important?"  The high school football playoffs are based on region play.  In Class AAAAA in the Upstate their are only three regions.  Four teams from Region III (Rock Hill area) are guaranteed to make the playoffs as well as five teams from Region II (Greenville/Spartanburg) and Region I (Greenville/Anderson/Grenwood).  In addition, two at large teams will be selected based on a number of factors.  For Woodmont and Wade Hampton the goal is pretty simple, finish top five in Region-1 which features unbeaten TL Hanna, 3-1 Greenwood, which just escaped Woodmont last week 9-0, .500 Laurens and sub-.500 Westside, Easley, Mann, Woodmont and Wade Hampton.  Playoffs are still a real possibility for the winner of this game.  The Wildcats are coming off their best defensive effort of the season, holding Greenwood to nine points with zero touchdowns.  The Woodmont run game has got to find the endzone after back to back scoreless weeks.  For Wade Hampton, the young Generals are looking for a spark on offense.  Their non-region slate featured unbeaten Dorman, unbeaten Eastside and a road trip to 4A power Greenville.  Wade Hampton has had to grow up fast and they were not pleased with their performance to open region play at Laurens last week.  Big game for each of these programs as they continue to grow.  You can stream the game at https://nasschools.sportngin.com/
JL Mann is also winless on the season, but they've already gotten their toughest test in region play out of the way last week.  The Patriots traveled to undefeated TL Hanna and opened region play 0-1.  This week the Patriots host Easley.  The Greenwave  are 1-3 on the season and opened region play with a 42-14 loss at Westside last week.  Like our game of the week, both Easley and JL Mann are eyeing a potential playoff berth with a win this week.
Over in Region II-AAAAA, Mauldin (1-3) and Riverside (0-4) are both coming off region losses a week ago.  Mauldin's defense held an explosive Gaffney offense to 27 points, but the Mavs offense continues its early season struggles.  Mauldin got athlete Mitch Norman back last week.  Norman was the Mavs starting QB last season as Mauldin went 7-5 and to the second round of the 5A playoffs.  Norman is coming off an ankle injury that sidelined him the first three weeks of the season and for a good bit of the summer.  He will line up all over the field for Mauldin, including under center and hopes to give the offense a jump as he gets back into playing shape.  Riverside is going through a program rebuild with a first year head coach and an all new offensive and defensive scheme.  The Warriors will look to steal a win on the road, while Mauldin hopes to defend Freeman Field and get back into the playoff talk.
Hillcrest was off to a 3-0 start, but opened region play with a loss at Dorman last week.  Dorman is an early favorite to win Region II-AAAAA and the Rams gave them all they could handle last week before falling late 28-21.  This week the Rams need a win as they host Spartanburg (1-3, 0-1).  The Vikings have struggled early this season, but they are always dangerous come region play.  Hillcrest will rely on veteran QB Will Watts and a big play offense and the Rams defense has been feisty all season as they look to keep Spartanburg winless in region play.  The Rams knocked Spartanburg out of the 5A playoffs last season, ending a long losing streak to the Vikings.
Non-region play wraps up this week for teams outside of Class 5A.  Former region rivals, Southside (3-2) and Berea (1-3) will hook up at Berea.  The Tigers have been a rollercoaster this season going Win-Loss-Win-Loss-Win.  They hope to end that pattern against the Bulldogs.  Southside knew they entered the season with a big time playmaker at QB in Jalon Calhoun, but the Tigers have gotten great production out of new running back Braydon Bennett.  Bennett is second in the county in rushing with 711 yards on 86 carries.  He has added eight touchdowns for the Tigers.  Southside has also found some quarterback help for Calhoun, allowing Jalon to move around the field and use his athleticism.  Jamie Gamble leads the team in passing yards and TDs.  Berea will rely on their own running game to try and slow down the explosive Tigers offense.
Eastside (4-0) faces a huge test before starting region play next week as the Eagles travel to 3A power Chapman (5-0).  The Panthers have already taken down 4A powers Union County and Seneca and defeated 5A Boiling Springs 55-28.  Eastside has the weapons to match Chapman on the scoreboard.  WR Payton Mangrum leads the county in receptions and QB Marshall Skoloff has locked down the starting job after an early season battle for the position.  The key to success for the Eagles may be keeping the high scoring Panthers off the field.  RB Max Louris is more than capable of controlling the game on the ground.
Carolina heads to Walhalla looking for their first win in some time.  It will be a daunting task as the Razorbacks enter the game unbeaten.  Carolina will need a great effort from their defense to keep this one close.
One last game tonight features Blue Ridge (0-4) heading to Florida to face Vernon (1-1).  The young Tigers have struggled early this season under new head coach James Thurn, but the opportunity to hit the road, visit Florida State University and bond as a team should pay dividends as the program rebuilds.
Greer (4-1), Greenville (3-2) and Travelers Rest (5-0) are all on a bye this week and will open region play next Friday night.
Posted: 9/21/2018 | Author: Jeff Hoffman