GCS High School Football - Week 3 Recap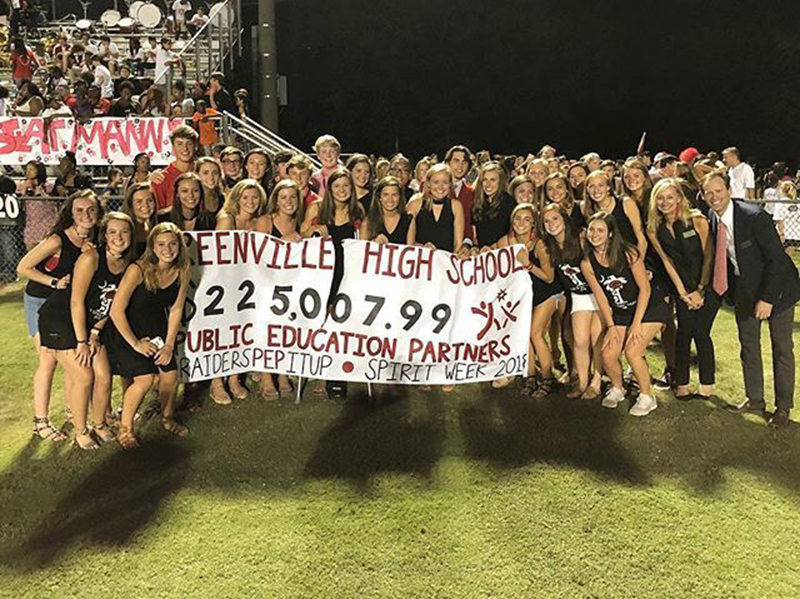 Our featured Game of the Week featured longtime rivals JL Mann hosting Greenville. Greenville marched right down the field on their opening possession and grabbed a 7-0 lead on Colin Wakefield's 10-yd run. The Raiders defense set the offense up around midfield and Davis Beville took advantage finding Aziz Huff for a 50-yd scoring strike and a 13-0 lead. The theme of the night was field position, the Raiders defense kept giving it to the Greenville offense and the offense took advantage. Beville found Tyrique Simmons early in the second quarter to push the lead to 20 and a short Terrance Gist run up the gut made it 28-7 following a Mann score. Beville and Wakefield hooked up just before half to make it 34-7 at the half. During halftime the big winners of the night were announced as the Spirit Week fundraising amounts were announced. The two schools combined to raise over $400,000 for their respective charities, Meyer Center for Special Children and Public Education Partners. Greenville would cruise to a 48-19 victory as Davis Beville threw for four scores on the night. The Raiders (3-1) have a huge road trip next Friday as they travel to defending AAAA state champion South Pointe (2-1). Mann (0-3) will look to regroup as they start play in Region 1-AAAAA on Friday at region favorite TL Hanna (3-0).
Mauldin hosted Greer in a rare in county matchup. The Mavericks and Yellow Jackets haven't met since 1981 following a four year series in which Greer went 3-1. Greer was facing their fourth straight Class 5A opponent, opening with a loss at Byrnes before getting wins at home vs Spartanburg and Westside. The Jackets defense has been outstanding since that Week 0 loss on the road and continued their dominance at Mauldin. Dre Williams opened the scoring with a short TD run. Mauldin's defense was focused on Williams who has been running wild this season. Overall the Mavs were able to keep Williams in check, holding him under 100 yards for the first time this season, but that focus on one player opened things up for the other Jackets. WR Cameron Martin took full advantage, hauling in TD receptions of 55 and 68 yards in the first half as Greer took a commanding 21-3 lead. Mauldin's lone points followed a big kickoff return by Brendan Killough, leading to a 40-yd FG by Ben Dority. The Greer D started the second half with a fumble recovery which was scooped up by Najawuan Smith and returned for a TD. Williams and QB Treyvion Houston added late TD runs as Greer rolled to a 40-3 victory. The Yellow Jackets (3-1) will host the Jacket Bowl vs Union County (2-2) on Friday. Mauldin (1-2) will open region play in the very difficult Region II-AAAAA by traveling to Gaffney (3-0).
Hillcrest is also part of the difficult Region II-AAAAA. The Rams traveled to Laurens for their final non-region tune-up. Hillcrest's defense has been a big part of their early season success and quickly the Rams defense made their mark when Aries Scott scooped up a Laurens fumble and returned it for a 7-0 lead. After that stop however, the Rams had trouble slowing down the Raiders ground game as Laurens controlled the clock and built up a 17-7 lead. Hillcrest settled down and after TD runs by Collin Whitfield and Quen Jefferson, the Rams regained the lead 20-17. Laurens regained the lead right before the 4th quarter, but the Raiders ran out of steam heading into the final frame. Hillcrest dominated the 4th, outscoring Laurens 22-0. The Rams opened the frame with a TD from Will Watts to Deonte Smith. Whitfield and Dre Johnson added scoring runs as Hillcrest moved to 3-0 on the season. The Rams will open region play at last seasons 5A state runners-up Dorman (3-0).
The Travelers Rest Devildogs were decimated by injuries and won only one game in 2017. Entering Friday night, the Devildogs looked to improve their record in 2018 to 4-0. TR got off to an impressive start as QB Wilson Hendricks unleashed a bomb to Derrick Fields for an 80-yard score and a 7-0 lead, which the Dogs would hold to the end of the first quarter. In the 2nd, Pickens got their ground game rolling and tied things up mid-quarter. After a Hendricks interception, the Blue Flame grabbed a 13-7 lead heading to the half. Hendricks atoned for his mistake by rushing for a score and giving TR a 14-13 lead after three. The run heavy Flame surprised the Devildogs with a long TD strike in the 4th and TR found themselves trailing for the first time in the final frame this year. With under five minutes remaining, trailing 19-14, Deonte Byrd added a scoring run and TR grabbed a 20-19 lead. The Devildogs defense locked in and kept Pickens out of scoring range and TR moved to 4-0 on the season 20-19. TR will host rival Blue Ridge (0-3) in a non-region matchup on Friday night. The two teams will meet later in the season at Blue Ridge in a Region II-AAAA tilt.
A young and inexperienced Blue Ridge team is looking to find consistency under new head coach James Thurn. The Tigers opened the season 0-2 and played host to upstate power Chapman (3-0) on Friday night. Blue Ridge was able to slow the pace of play down early, but were unable to put up any points as the Panthers rolled 42-0.
Much like the Tigers, Carolina is young and with a first year head coach in Will Owens. The Trojans opened the season with three straight road losses, but played Berea tight in week 2. Headin into their first home game, the Trojans hoped to build off that performance at Berea as they hosted Christ Church. Mistakes proved costly as Carolina fell to 0-4 with a 32-12 loss to the Cavaliers. The Trojans will host Liberty (2-2) on Thursday night at 7:00 pm.
Coming off their narrow win over Carolina, the Berea Bulldogs traveled to Pendleton in a Battle of the Bulldogs matchup. Berea's offense struggled from the start and Pendleton quickly took control of the game and rolled to a 50-0 win. Berea (1-2) will be on the road at Pickens (1-3) on Thursday night.
Southside made a trip across the state line as they traveled to Jefferson High in Georgia. QB Jalon Calhoun, who will be playing his college ball at Georgia Tech, kept the Tigers competitive, but the offense struggled to cross the goal line as the Tigers fell 31-7. Southside (2-2) will return home to host Christ Church (2-2) on Friday.
After a 3-0 start, the Eastside Eagles went into their bye week with a lot of confidence. The Eagles will come out of their break with a home game vs Broome (2-2) on Thursday night. Woodmont, Wade Hampton and Riverside all went into their bye weeks at 0-3 and looking for answers as each team heads into region play this coming week. Woodmont will host Greenwood (2-1), who is also coming off a bye. Wade Hampton will travel to Laurens (1-3) who is coming off their tough home loss to Hillcrest. Riverside will host Boiling Springs (1-2) who is coming off back to back losses.
UPDATED: Reflects Eastside moving home game vs Broome to Thursday night due to potential weather from Hurricane Florence.
***Carolina has moved its game vs Liberty to Thursday at 7:00 pm***
***Berea has moved its game at Pickens to Thursday night***
Posted: 9/10/2018 | Author: Jeff Hoffman