Week 3 Preview - GCS High School Football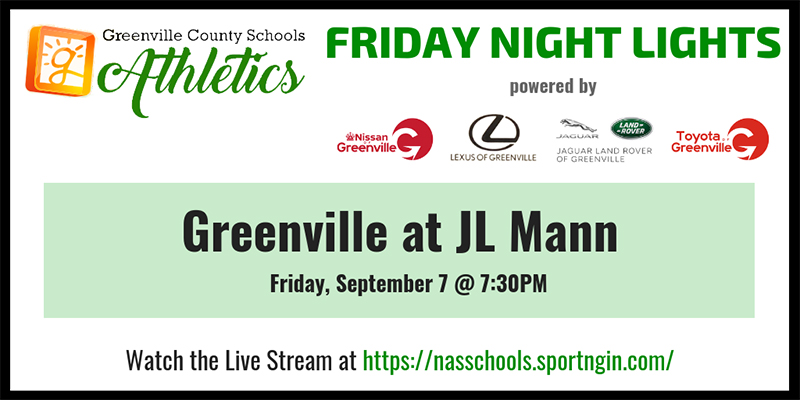 Our Week 3 Game of the Week is none other than Greenville at JL Mann. These two longtime rivals are in the midst of Spirit Week and the atmosphere at Mann should be electric. Greenville (2-1) dropped their first game of the season last week at BHP 25-24. The Red Raiders never trailed until the closing seconds when the Bears converted a 2-point conversion for the win. Greenville will look for a quick bounce back vs a JL Mann team that has opened the season 0-2 and struggled to get anything going offensively last week on the road at Mauldin. Mann will look to control the clock and keep a potent Raiders offense on the sideline. An upset win for the Patriots will launch them into region play next week with a ton of confidence. Kickoff is 7:30 pm at JL Mann.
Coming off their 51-0 win over JL Mann, Mauldin (1-1) will again turn to their defense as they host the Greer Yellow Jackets (2-1). Mauldin held Mann to under 100 yards of total offense, but Greer is a whole different monster on offense. Duel-threat QB Treyvion Houston conducts a fast paced Jackets attack that has playmakers all over the field, including dynamite RB Dre Williams and Old Dominion commit Braxton Collins at wide receiver. Mauldin's CB Andru Phillips held Hillcrest's outstanding WR Quendarius Jefferson to one catch for one yard in week one. Phillips, along with seniors Jalen Anderson, Devon Scott and Brendan Killough will anchor the Mavs secondary as they try and slow down the Jackets high powered offense. Greer continues their 5A gauntlet to open the season which has featured wins vs Spartanburg and Westside and a narrow road loss at Byrnes. Mauldin and Greer have not played each other since 1981. The Jackets hold a 3-1 series lead all-time.
Hillcrest (2-0) will be on the road for the first time this season. The Rams eeked out a close 20-14 win to open the season vs rival Mauldin and last week the defense was outstanding as Hillcrest kept Woodmont out of the endzone in a 27-0 victory. This week the Rams travel to another neighboring rival, the Laurens Raiders (1-1). QB Will Watts has explosive receivers in Quendarius Jefferson and former Laurens standout Deonte Smith. Smith, in his first year at Hillcrest after moving, will look to have a big night against his former team.
It's a Battle of the Bulldogs in Pendleton this week as Berea (1-1) travels to Pendleton (1-1). Berea jumped out to a big halftime lead and held on to escape with a one point victory over Carolina last week. Berea will look to carry that momentum into Pendleton this week.
At 0-3, Carolina is seeking its first win under new coach Will Owens. It's been a tough start for the Trojans, who opened with three straight road games. Carolina is coming off their best game of the season as they rallied and had a shot late to beat Berea before falling just short. Carolina will look to senior leader Tim Whitley involved early and often as they host Christ Church (1-2).
Blue Ridge is also looking to get their new head coach James Thurn his first victory of the season after opening 0-2. It will not be easy this week as last season AAA state runners-up, the Chapman Panthers come to town. Chapman is off to a 3-0 start and has an offense that is averaging 55 points a game. The Tigers will look to slow the pace and keep Chapman's offense on the sidelines as they host the Panthers Friday night.
Southside's new head coach Jeremy West has a pair of wins under his belt now as the 3A Tigers have knocked off 5A foes JL Mann and Riverside in back to back weeks. This week Southside will travel across the state line to Georgia to face the Jefferson Dragons (1-1). Southside (2-1) will rely on an improved offensive line to run the ball with Braydon Bennett and QB Jalon Calhoun is a big play threat through the air and on the ground.
What a difference a year makes for the Travelers Rest Devildogs. 2017 saw TR go 1-9 and be riddled with injuries throughout the season. This year the Devildogs are healthy and rolling as they are off to a 3-0 start and coming off a dominating 49-0 win at Ware Shoals. TR will again be on the road as they travel to Pickens (1-2). QB Wilson Hendricks and Deonte Byrd provide a dynamic one-two punch out of the backfield and Esias Tucker and Derrick Fields give Hendricks big play receivers on the edge. TR's defense has also played really well to start the season, dominating Ware Shoals a week ago in the shutout.
Eastside, Riverside, Wade Hampton, and Woodmont are all on a bye this week after opening their seasons week 0. Riverside, Wade Hampton and Woodmont will jump into region play starting next week. Eastside will be on the road for a couple weeks before starting region play September 28th.
Posted: 9/7/2018 | Author: Jeff Hoffman