GCS High School Football: Week 1 Preview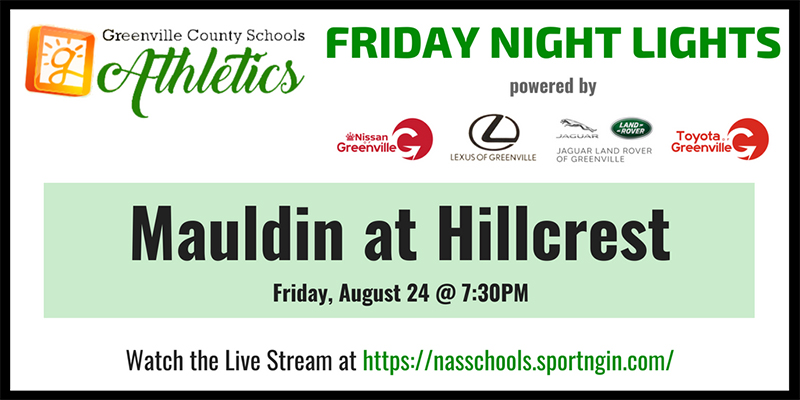 Week One of the 2018 high school football season is upon us! This weeks "Friday Night Lights" Game of the Week features Golden Strip rivals, the Hillcrest Rams hosting the Mauldin Mavericks. Both teams made the playoffs last season and are looking to build off that success. The Rams swept the two game series in '17 behind a stingy defense and big play offense. Hillcrest lost some key contributors to that defense, but the Rams are still very athletic and hard to score against on that side of the ball. Quarterbacks Will Watts and Ethan Bemish control the Rams big play offense. Top receiver Quendarius Jefferson returns for his senior season.
Mauldin is breaking in two new quarterbacks, Joe Owens and Jeb McBride. Mauldin will rely on their experienced offensive line and ground game to help ease the quarterbacks into the season. JT Pingry and Seth Hawkins anchor the line from the tackle position. Leading rushers Raekwon Fenderson and Jason Branham-King return to add punch in the backfield. Outside the Mavs are young, but talented. A key to Mauldin's success last year came on the defensive side of the ball and the Mavs look strong there again in '18. Devon Scott, Brendan Killough and Andru Phillips all return in the secondary and will have their hands full vs the Hillcrest receivers. Up front, seniors Mark Milnac and Shun Puckett return. Mauldin lost a good group of linebackers from the '17 team. James Snipes returns after missing the end of last season due to injury and Chase Thompson moves from DL to MLB this season for the Mavericks.
These two teams will open and close the regular season versus each other, with the Rams hosting Week 1. You can watch this rivalry game at: https://nasschools.sportngin.com/
In other Week 1 action:
Berea Bulldogs vs Liberty Red Devils - Berea opens their 2018 campaign at home vs the Liberty Red Devils. The Bulldogs went through a lot of change in the offseason including a new head coach, Julius Prince, and a new region and classification as Berea moved up to Region 2-AAAA.
Eastside Eagles vs Riverside Warriors - Both teams opened 2018 play in Week 0, the Eagles grabbing a home win over Southside in the final minutes. Riverside dropped their home opener to Travelers Rest. Eastside has playmakers all over the field on offense, but has yet to settle on a starting QB to steer the ship. Dawson Conrad started the game and played fairly well, but Marshall Skoloff entered late with the Eagles trailing to conduct the game winning TD drive. Whoever starts at QB has weapons all over the field, including All-State WR Payton Mangrum. Transfer RB Max Louris racked up over 130 yards in week 0 and looks to team with Reggie Rogers to give the Eagles a potent backfield. Riverside enters the game with a loss as they adapt to a new head coach and new system. QB Andrew Brown played well in defeat, but the young Warriors will need to improve their balance and defense to compete in their difficult region, Region 2-AAAAA.
Greenville Red Raiders vs Wade Hampton Generals - Greenville opened 2018 with a 41-23 victory over Woodmont. The Red Raiders jumped out to an early lead behind QB Davis Beville's three touchdown passes. Beville, a University of Pittsburgh commit, picked up where he left off last season orchestrating the Raiders offense. After Woodmont closed it to a one score game in the 4th, RB Collin Wakefield sealed the victory with a pair of TD runs. Wade Hampton tried to break in a new quarterback and a young offensive line in Week 0. It did not go well vs last seasons state runners-up, the Dorman Cavaliers. Wade Hampton has an experienced back in Trey Berry and QB Cason Whitmire is a dual threat option. The Generals will look to improve their play as they battle the Red Raiders at Sirrine Stadium.
Greer Yellow Jackets vs Spartanburg Vikings - RB Dre Williams rushed 30 times for 258 yards and three touchdowns. He also added 49 yards receiving and a 96-yd kickoff return for a score. It was not enough as the Jackets fell at crosstown rival Byrnes. Greer faces another tough test as they again play a 5A opponent as they welcome the Spartanburg Vikings to Dooley Field for their home opener.
Southside Tigers vs JL Mann Patriots - Southside QB Jalon Calhoun is committed to play football at Georgia Tech next fall. In their Week 0 loss at Eastside, Jalon did all he could to keep the Tigers competitive, rushing for over 200 yards on 11 carries. The Tigers fell just short in the closing minutes, but showed signs vs a very good Eastside team. Mann plays in their season opener Week 1. The Patriots are still a young team going through a rebuild. They hope to get 2018 off to a quick start at Southside.
Travelers Rest Devildogs vs Carolina Trojans - Both teams opened 2018 last week, with TR going to Riverside and getting the win. The Devildogs ground game got great production from QB Wilson Hendricks and RB Deonte Byrd. Hendricks also added a pair of TD tosses to his stat line. The Trojans got a great outing from TE/LB Tim Whitley who had 147 yards receiving and a score on eight receptions, but mistakes proved costly as Carolina fell behind early and could never overtake St Joseph's.
Woodmont Wildcats vs Palmetto Mustangs - Woodmont dropped their season opener on the road at Greenville, but there were several bright spots for the Wildcats including the play of QB Clay Bartunek who had 155 yards passing and a pair of scores and added another TD rushing. The Wildcats clawed their way back against Greenville to make it a one score game in the 4th before falling. For their home opener, Woodmont will look to finish strong against a good Palmetto team playing its first game of the season.
Posted: 8/23/2018 | Author: Jeff Hoffman