Week 2 Preview - GCS High School Football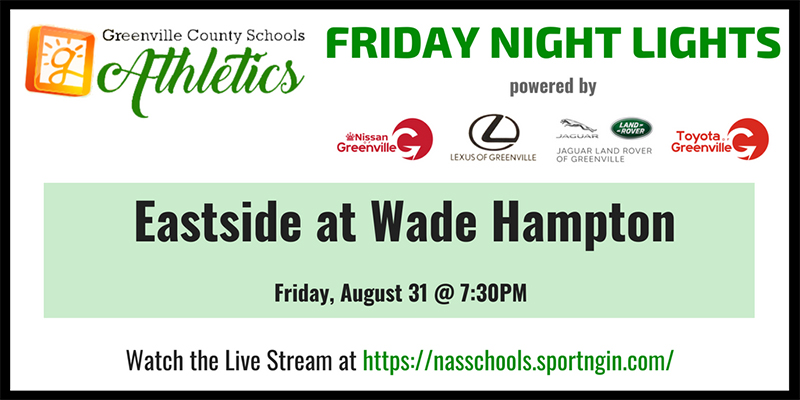 Heading into Week 2, rivals Eastside (2-0) and Wade Hampton (0-2) are trending in opposite directions. The Eagles used a late rally in Week 0 to pull off the victory over Southside. Last week the Eagles got five touchdowns from QB Marshall Skoloff as Eastside cruised over Riverside. The Eagles have been rotating QBs early between Skoloff and Dawson Conrad who has started the first two weeks. Eastside's skill on the perimeter, including Payton Mangrum, Armani Elmore, Reggie Rogers and RB Max Louris have enabled both QBs ro have success early in the season. Wade Hampton on the other hand has faced two of the better teams in the Upstate. The Generals lost Week 0 to a loaded Dorman team which finished 2017 as 5A state runners-up. Last week Wade Hampton traveled to Sirrine Stadium to face Davis Beville and the Greenville Red Raiders. Wade Hampton is a young team, breaking in a new quarterback, mostly new offensive line and lots of youth on defense. The Generals will need a big night from Senior RB Trey Berry if they hope to pull the upset over Eastside in this rivalry game. Wade Hampton will host the Eagles Friday at 7:30 pm in this weeks Game of the Week! Watch the live stream at https://nasschools.sportngin.com/
Berea (0-1) will host former region rival Carolina (0-2). Both teams are looking for an early win to jump start their respective seasons under new head coaches. The Bulldogs struggled on offense Week 1, falling to Liberty 22-6 with the only score coming on a kickoff return for a TD. Carolina is coming off a week where everything went wrong vs Travelers Rest. The Trojans will try and regroup and get the ball to Senior Tim Whitley who had a big first week receiving in a loss to St Joe's.
Hillcrest will host their second straight rivalry game as the 1-0 Rams welcome the 0-2 Woodmont Wildcats to Chandler Field. Hillcrest was outgained in Week 1, but big plays and turnovers aided the Rams in their 20-14 victory over Mauldin. QBs Will Watts and Ethan Beamish each tossed a long TD and AJ Hill added a 56 yard TD run for the Rams. Hillcrest's defense had some bend vs the Mavs running game, but big play turnovers limited the damage and preserved the victory. The Rams will need to shore up that run defense vs a very dangerous Wildcat ground attack. Woodmont operates primarily as an option ground attack team, but the Wildcats have found success early this season going over the top with QB Clay Bartunek running the show. Woodmont will look to upset the Rams for their first victory of the season.
Mauldin (0-1) will look to clean up their mistakes as they host JL Mann (0-1) this week. Turnovers doomed the Mavs Week 1, but in the closing seconds Mauldin still had a shot at victory. The Mavs defense was good most of the night vs Hillcrest, but four big plays helped sink their effort. JL Mann will look to exploit those holes and create some big plays themselves this week. Mann lost to Southside 26-19 and it was a turnover returned for a TD on the opening drive which ended up being the difference in the game. Both Mann and Mauldin need a win to build some momentum as region play nears.
Southside (1-1) evened their record and got new head coach Jeremy West his first victory in their 26-19 win over JL Mann. This week the Tigers host another 5A foe as Riverside (0-2) comes to town. Both teams have relied on their scrambling QBs and solid run games early in the season. Tigers QB Jalon Calhoun is a threat to score from anywhere on the field and RB Brayden Bennett has added a tough inside running style to the Southside ground game this year. Riverside relies on versatile QB Andrew Brown to create plays. OJ Acosta looks to build off his big night at Eastside last week to try and help the Warriors secure their first win before they open region play.
It's a big game in Class AAAA down in Belton-Honea Path as Greenville (2-0) travels to BHP (1-0). Greenville's offense has looked sharp under the direction of University of Pittsburgh commit QB Davis Beville. Aziz Huff and Caleb Krall have emerged as big play receivers for Beville and the offense and Collin Wakefield is a veteran RB who helps set up a young Raiders offensive line. Greenville is young on defense, but they are athletic and pitched a shutout last week vs Wade Hampton. BHP enters after a big win over Powdersville to open their season last week.
Greer (1-1) met Spartanburg on the gridiron for the first time in 43 years last Friday. The Jackets got a big night from QB Treyvion Houston as he threw for over 100 and rushed for 99 yards and a score in Greer's 37-17 victory. Houston and RB Dre Williams give the Yellow Jackets a dynamic duo in the backfield which should give this weeks opponent Westside some trouble. The Rams struggled to slow down a physical Boiling Springs team in losing last week to open their season. Greer will host Westside at Dooley Field as the Jackets continue to challenge themselves vs 5A opponents in their non-region slate.
Travelers Rest (2-0) is off to a fantastic start in 2018. The Devildogs easily dispatched Riverside Week 0 and last week TR rolled up 63 points against Carolina. The Devildogs will look to stay on the attack this Friday as they host an 0-2 Ware Shoals team. TR has found balance on offense with RB Deonte Byrd complimenting QB Wilson Hendricks. Receivers Derrick Fields and Esias Tucker add some big play potential on the outside.
Blue Ridge (0-1) had a rough Week 0 falling to Landrum. The Tigers got a bye last week to refocus as they prepare to host Chesnee (1-1) in their home opener. New Head Coach James Thurn isn't concerned with victories early in the year as he tries to improve a young Tigers team and get them ready to compete in region play.
Come out and support your local teams! Kickoff is 7:30 pm!
Posted: 8/31/2018 | Author: Jeff Hoffman