Greenville County Schools Hall of Fame
The Greenville County Schools Hall of Fame honors those men and women who have graduated from or worked at Greenville County Schools and made a substantial or significant contribution(s) to their field.
For GCS Graduates, their contributions can be at the local, regional, national, or international levels in any appropriate area of endeavor such as, but not limited to, academia and education, arts, athletics, business, media, medicine, military, philanthropy, public service, or science.
For GCS Educators, their contributions to the profession of education, specifically within the K12 public education sector, have had a lasting and positive impact on students.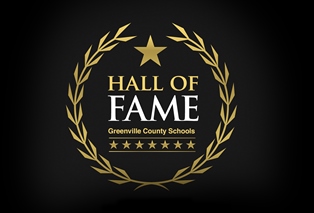 As the host of the Greenville County Schools Hall of Fame annual Induction Dinner, proceeds from the event go to the Greenville County Schools Foundation. The Foundation's mission is to serve in a support capacity for the School District in providing educational services for schools administered by the superintendent. The Foundation will help provide students and employees with programs, support, and services that are above and beyond that which is provided by the education funding system.